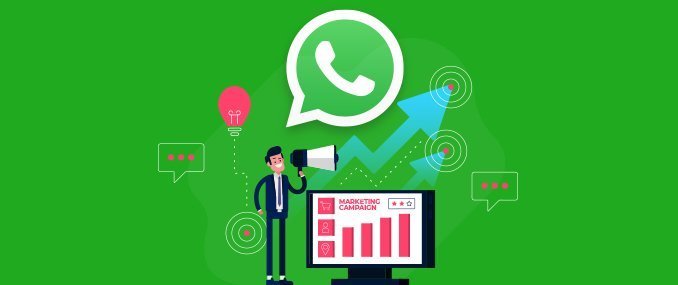 Every day, WhatsApp is increasing their consumer base and now has been reached to 1.6 billion worldwide users.
There are a lot of potential customers for any business, of every niche. Any business could get at least a handful of new clients when there are billions available on one platform. But how do we can use WhatsApp for promotions and advertising in the first place? After all, it's famous for "no ads, no promotion and no spam." So how do we can use it for promotional messages?
The answer is surprisingly similar to text message (or "SMS") marketing. You simply need to sign up for Whatsapp marketing panel, add a database and Messages content and start sending promotional messages.
That means if you want to use WhatsApp for marketing, you have to sign up for WhatsApp marketing campaign.
If you'd like to speak with a specialist, you can reach us at [email protected].
World campaign king is a digital marketing service provider. We deal in Whatsapp marketing and Whatsapp API for business.
CONTACT US FOR A FREE QUOTE
1. What are benefits from WhatsApp Marketing?
Whatsapp provides lots of feature to make conversation easy and effective that's why WhatsApp has grown exceptionally well in last few years and those all can be beneficial for all marketer who want to use this platform for marketing. Below are some benefits you can get from WhatsApp platform.
• Geographical limitless
WhatsApp has the potential to benefit any kind of business and this app works exceptionally well for businesses that work globally. So if your business works globally, you could grow you business in your niche by sending them promotional message via WhatsApp.
Availability of Audience
WhatsApp has more than 1.6 Billion of Active users. There are a lot of potential customers for any business, of every niche. Any business could get at least a handful of new clients when there are billions available on one platform. Also WhatsApp is used in almost every country so there are high chances of message getting share among peoples all over the world.
High open rate
WhatsApp has grown very rapidly in last few years and still growing because of it's amazing features. WhatsApp is being used for personal chat and conversation so according to study one person opens WhatsApp 49 times a day to check messages and reads almost every message. This shows peoples are very addicted now to WhatsApp because of this reason every marketer wants to use Whatsapp for promotion because they are sure their messages is going to read by every receiver unlike Emails and SMS.
Attractive message
You can send several kinds of media files on WhatsApp. It makes message interesting to read and watch. Like you can send Emoji's, Images, Videos, Document files, Audio files. So this feature makes message engaging. Unlike just text media files make it interactive so receivers don't leave it meanwhile reading. Receiver check whole message, it gives better clarity about your business and help them to take decision. Because this reason promotional campaign on WhatsApp get high conversion ratio.
No matter how you slice it, WhatsApp is a goldmine for Promotion and sales. So now, do you want to use it for your business promotion? How do you start using it?
2. Sending your marketing messages
Before you use WhatsApp for marketing campaign, you need to set up plan of how you'll proceed. Unfortunately, MMS Service is not available for sending a media files to multiple people. However, you can use our WhatsApp Marketing panel to broadcast your promotional campaign. This panel lets you send an identical message to Thousands of peoples at a time, and you don't reveal the recipients to one another unlike Group chat.
That means you can send one same message to Thousands of peoples without revealing their contact number to each other. That's the major advantage you get in this panel in terms of privacy and time saving.
Another big benefit of Our WhatsApp Marketing panel is that you can know which number has active WhatsApp and which numbers not active on WhatsApp by using Filter option. You get a list of active Whatsapp number in filtering report. So if in case you want to reach to all numbers you can use SMS service for number which is not available on WhatsApp. It also gives you the opportunity to reach your entire Database.
In a nutshell, that all means you can instantly contact potential customers around the world even after lot of restrictions by Whatsapp platform.
That's a best opportunity for any company.
3. Associated costs
The bottom line of any marketing initiative is cost. But With our WhatsApp marketing panel, you don't actually have to worry about that. It is very inexpensive medium of marketing where you need to pay for Credits.
Every company in the world can afford to spend a few dollars for marketing campaigns. In fact, It is most inexpensive medium of marketing if you compare to other mediums like Hoardings, News paper ads, TV Ads. It's almost certain that you pay thousands every year for others.
With such a low cost (and high potential), there's no reason not to try WhatsApp marketing for marketing. You also get free Demo to check service, so after demo only purchase if you think this service can work.
4. World Campaign King can help you get started with WhatsApp marketing
At WCK, we're constantly working on inventing and moving forward in the marketing. WhatsApp is still a new marketing avenue and many companies can take a benefit from this panel. That's why we have developed panel that helps to send Bulk Promotional messages to get new customers from the world's most popular messaging app.
Contact us today to check our WhatsApp marketing panels that can help your company grow!